Dr. Kate Pierce has a sincere passion for her profession. As a mother of three, she employs a "mother's touch" as she interacts with her patients. She truly appreciates the daily challenges of parenthood which fosters authentic conversations with parents. Dr. Pierce says her favorite part of her job is sharing life experiences with families and building long term relationships. Additionally, she enjoys mentoring students who have a passion for children and dentistry.
Dr. Pierce and her husband, Brian, are the proud parents of two sons, Cason and Turner, and a daughter, Howell. When she is not at the office, she can usually be found driving carpool, watching a sporting event or doing the everyday things that all moms do. When she has time to herself, she enjoys reading, walking, yoga and traveling.
Dr. Pierce is a native of Greensboro. She graduated Phi Beta Kappa from the University of North Carolina at Chapel Hill with a Bachelor of Arts. She then received a D.D.S. with highest distinction and a Master's of Public Health from UNC-CH. She remained in Chapel Hill for a three-year pediatric dentistry residency program.
She is a Diplomate of the American Board of Pediatric Dentistry and a member of the American Academy of Pediatric Dentistry. She is also a member of the American Dental Association, and numerous state and local dental societies. Her professional time outside of the practice is spent as an adjunct faculty member at the UNC School of Dentistry where she teaches in the pediatric dentistry clinic.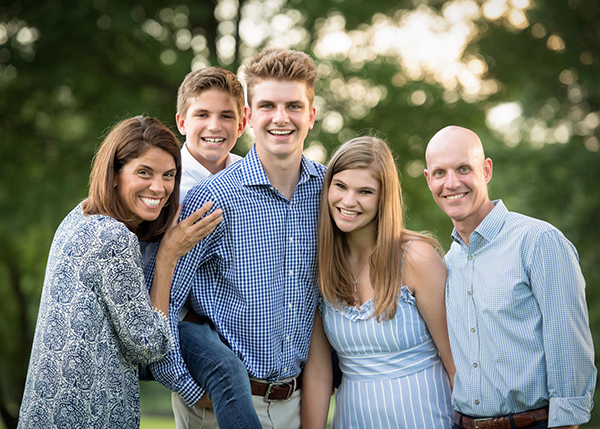 PARENT REVIEWS
I have a profoundly disabled child as well as a typically developing child. Both have been treated lovingly and with great care and compassion. Particularly for parents of special needs children, I cannot recommend Dr. Pierce and her staff highly enough. They are compassionate, caring and take great care of Jacob every time we visit! ✪✪✪✪✪ — Lauren G.
The dentists and staff are fantastic! My kids have been going to see Dr. Pierce since they were very young and they have always had a wonderful experience! Recently we had a little accident and they were able to get us in immediately! I would highly recommend! ✪✪✪✪✪— January G.
We had THE best visit for my five and three year old!! My oldest has been going here for the last two years and my youngest had her first visit today. Both hygienists we had were absolutely wonderful!! They were so upbeat, positive, friendly and so great with my kids! Dr. Pierce is the exact same way. She's so energetic and knowledgeable within her craft. She always lends a listening ear and is so friendly with my kids. The cleanliness of the lobby and dental offices are out of this world!! Cannot say enough great things about the Greensboro Center for Pediatric Dentistry!! So happy here! ✪✪✪✪✪— Heather S.