Dr. Kate Pierce has a sincere passion for her profession. As a mother of three, she employs a "mother's touch" as she interacts with her patients. She truly appreciates the daily challenges of parenthood which fosters authentic conversations with parents. Dr. Pierce says her favorite part of her job is sharing life experiences with families and building long term relationships. Additionally, she enjoys mentoring students who have a passion for children and dentistry.
Dr. Pierce and her husband, Brian, are the proud parents of two sons, Cason and Turner, and a daughter, Howell. When she is not at the office, she can usually be found driving carpool, watching a sporting event or doing the everyday things that all moms do. When she has time to herself, she enjoys reading, walking, yoga and traveling.
Dr. Pierce is a native of Greensboro. She earned both her Bachelor of Arts and her DDS from the University of North Carolina at Chapel Hill (UNC-CH) where she graduated Phi Beta Kappa.
Dr. Pierce remained at UNC-CH where she went on to complete a three year pediatric dentistry residency program and receive a Masters in Public Health. She is a Diplomate of the American Board of Pediatric Dentistry and a member of the American Academy of Pediatric Dentistry. She is also a member of the American Dental Association, and numerous state and local dental societies. Her professional time outside of the practice is spent as an adjunct faculty member at the UNC School of Dentistry where she teaches in the pediatric dentistry clinic.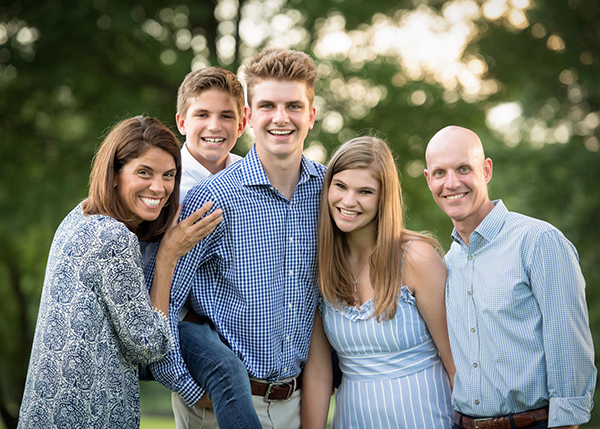 PARENT REVIEWS
My children first saw Dr. Pierce at age four. We have been happy patients for over ten years. As a parent, I love the kid-friendly setting for younger children. The employees in this office are welcoming, cheerful and comforting - from the reception desk to the dental chair to check-out. We highly recommend this practice! ✪✪✪✪✪ — Leslie M.
My 27, 26, 23 and 20 year old children went through Dr. Pierce's expert hands and sweet treatment and my 12 year old son still sees her. I have seen this practice grow and thrive through the years and it only gets better. The dentists and staff are knowledgeable, dedicated, compassionate and fun. The waiting room is inviting and entertaining for everyone! Thank you for the many years of extraordinary dental care and friendship! I wish you continued success and many no cavity club members to come! ✪✪✪✪✪— Myrta B.
My son recently was recently involved in a traumatic incident, being hit in the face with a baseball bat, which involved several teeth (two teeth becoming dislodged and one coming completely out). He also suffered significant gum and tissue damage. After an ED visit, we were sent immediately to The Greensboro Center for Pediatric Dentistry where Dr. Pierce and her assistant were waiting in a calming and very reassuring manner. By the way, this was on a Saturday when they were supposed to be home enjoying their own kids. Our son was taken in the back for a very invasive oral surgery with Dr. Pierce for approximately two hours and 30 minutes. However, every 15 minutes one of them would take the time to come out and speak with us letting us know our son, who is now 13, but of course at this time to us "our little boy", was doing well. Needless to say we were beside ourselves with worry, but they gave us peace immediately. "AND THE WORK" she pulled off was second to none, cream of the crop, best of the best, numero uno!! Our family can not sing Dr. Pierce and her staff's praises enough! Just look at the proof. Thank you! ✪✪✪✪✪— Nat L.