November 8th, 2022
It's after Halloween, and many of you ask, "What is the best and worst candy for our teeth?" We have put together a guide to some of the best and worst candies for teeth. No matter what candy you choose, it's always best to brush and floss after you or your child indulges in any sweet!
 ...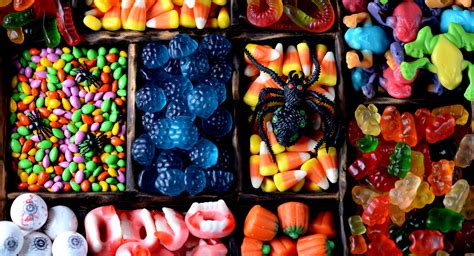 ...
The Best Candies
1. Dark chocolate is the best candy for your teeth by a wide margin. Dark chocolate is very low in sugar. Compounds in cocoa beans also have an antibacterial effect that fights plaque.
2. Sugarless gum and sugarless candies, such as candies with stevia or candies that diabetics consume. Sugar feeds bacteria and upsets the healthy ratios of pH and bacteria in the mouth, so a sugarless candy comes in as "second best" here.
3. Candy bars with nuts. Candy bars with a lot of nuts can break up the stickiness, and it's the stickiness of a candy that increases chance of cavity, so having nuts (and the protein/fiber that nuts provide) can break up the "badness" of the sticky parts of the candy. Nuts can also break up some of the biofilm of the teeth.
The Worst Candies
1. Anything Sticky. As Dr. Applebaum says, "Anything that would get stuck to your shoe if you stepped on it is bad for your teeth." The stickier the candy, the worse it is — that's Jujubes, Tootsie Rolls, etc. The effects of these sticky candies will linger because they stick around, increasing the chance for a cavity.
2. Lollipops & Hard Candies. Lollipops and hard candies last a long time compared to other candies. Frequency of exposure increases chance of harm to teeth – but if you throw it down the hatch and brush and floss right after, damage to (teeth only) can be minimal. Also the harder candies can crack a tooth when chewed (like Jolly Ranchers) which is NEVER a good thing.
3. Gummy worms, because they're the most acidic and wears down the tooth enamel, which protects your teeth. This makes it easier for teeth to become chipped or broken. A lack of enamel can expose the nerves in your teeth, which are extremely sensitive to changes in temperature of the things you eat and drink.