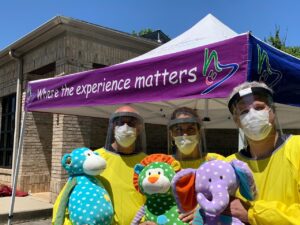 Our community has been through a lot over the last few months, and all of us are looking forward to resuming our normal habits and routines. While many things have changed, one thing has remained the same: our commitment to your safety. With enhanced protection and new protocol, we plan to reopen our practice on Monday, May 11th.
Dentists have been practicing infection control for over 30 years. Our office follows infection control recommendations made by the American Dental Association (ADA), the U.S. Center for Disease Control and Prevention (CDC) and the Occupational Safety and Health Administration (OSHA).  We want to tell you more about the infection control procedures we follow and the extra precautions we are taking in our practice to keep patients and staff safe:
We will be limiting the number of patients in the office and they will be spread out appropriately.

We have invested in a new feature for our HVAC system throughout the entire building. It is a dual function system that combines a UV light and an ionization plasma generator to kill germs, viruses, spores, mold, etc. We have also added additional air purifiers in each private room

If you or anyone in your family has flu-like symptoms (cough, fever, shortness of breath, fatigue, aches/pains, etc.) and/or has been in contact with a person testing positive for COVID-19, PLEASE DO NOT COME TO OUR OFFICE!  Simply call and reschedule your appointment.
After arriving for your appointment, please park in our parking lot and REMAIN IN YOUR CAR. There will be a numbered sign at each parking spot with a phone number to text. Once parked, please text the number on the parking sign with your child's name and the parking space number. A dental assistant will greet you at your car with a medical release form and will escort your child to the treatment area. 

Each patient will have a temperature scan and use hand sanitizer prior to entering the building. All dental assistants will be wearing appropriate protective gear.

All parents and non-patients must stay in their car for the duration of the appointment.  For patients who must have a companion, please notify us before your appointment. All companions will be required to provide their own mask.  

The waiting room and public play areas will not be used. All toys will be removed and all children will stay in their chair during their appointment. The bathroom will be used for emergencies only.

At the completion of your child's appointment, they will be escorted out to the car without stopping at the front desk and without contacting public surfaces. You will then receive a phone call giving you an opportunity to speak to the doctor and schedule additional appointments.

All payments will be contactless for your own safety.  Our office will collect any necessary co-payments via credit card of Paypal when your child's appointment is scheduled. 
We value your trust and loyalty and appreciate your patience with our new protocols. During these uncertain times, we realize that your child's visits will feel more "matter of fact" than fun and playful. Their dental health and medical safety remain our top priority as we navigate these new challenges. We will continue to show our usual warmth, compassion and technological standards that you have come to expect and appreciate over the last 35 years. Our objective has always been to provide the highest quality pediatric dental care without the kids even knowing!! Hopefully we will soon return to the "Disney World" atmosphere, where kids cry when they have to leave and can't wait for their next visit.
We look forward to seeing you again and are happy to answer any questions you may have regarding our new safety procedures.  To make an appointment, please call our office at 336-292-0411 or request an appointment online.